Condito's participation in the 38th International Exhibition of PLMA WORLD OF PRIVATE LABEL 2022, which took place on May 31 – June 1, at the RAI Exhibition Center, in Amsterdam, was completed with great success.
Executives of foreign and Greek companies, retailers, importers, wholesalers and representatives of Super Markets and Discount Super Markets chains from all over the world, visited the Condito stand to get to know the company and its products.
The company presented to the public the wide range of its products and packages, in the main categories, Ketchup, Mustard, Mayonnaise, as well as the delicious Sauces & Dressings, including the new code Cheddar Sauce, in two different packages for Retail & Food Service markets.
Special emphasis was given to the company's new brand, "Condito The Green Line", and its 2 major categories: Mayo Vegan Sauces & Vegan Salad Spreads. The line of Mayo Vegan Sauces includes four delicious flavors, with: mild mustard, smoked chili flakes and sun-dried tomato & basil and of course the crown of the series, the classic Mayo Vegan Sauce. Respectively, the innovative series of Vegan Salad Spreads now includes 8 codes: Russian, Gardener, Eggplant Salad, Cucumber, Hummus, White Spicy Spread, Spicy Spread with Red Sweet Peppers and the new, innovative Vegan Tzatziki.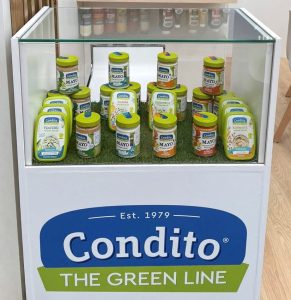 At the same time, always guided by hygiene, personal safety and compliance with the legislation, Condito presented to the public, the renewed series of 15g individual portions, in Ketchup, Mustard, Mayonnaise, in a carton of 200 pieces, as well as the two new, popular codes, the Sweet BBQ Sauce and the Mustard & Mayonnaise, offering even more solutions for the needs of delivery and take-away.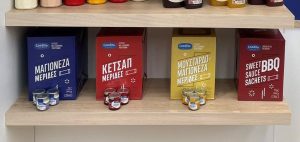 The next participation of the company in an exhibition activity will be at SIAL PARIS 2022 on October 15-19.
* All promotional products were offered free of charge after the end of the exhibition to a Charity Organization of the Netherlands.